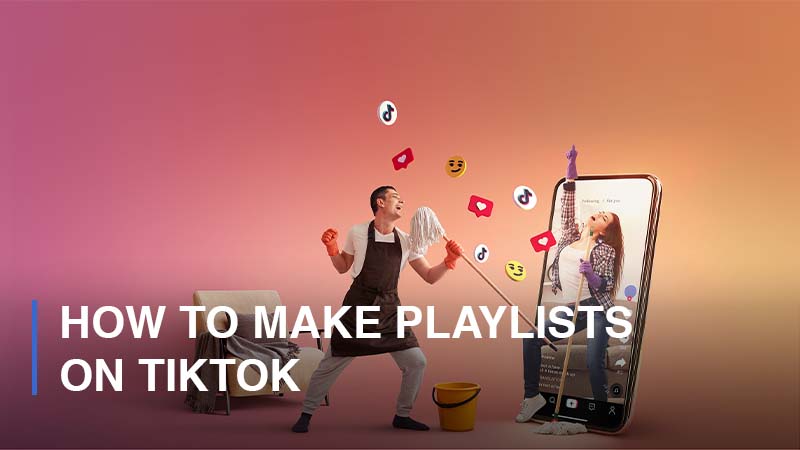 The last few decades have seen seismic changes in the digital space, with social media arguably being the most popular mode of connectivity. TikTok is one of the most influential applications in the world right now. It has empowered communication and collaboration, managed to make itself a brilliant tool for self-promotion, and even released important features like TikTok coins and the creation of playlists. The popularity of the playlist feature has skyrocketed, leading many users to wonder how to make playlists on TikTok.
What are TikTok Playlists?
TikTok is always looking for ways to better its product, which is achieved by including new features that allow for even more freedom and user-friendly tools. The platform has released many features over the last few years, like group chats and posting stories.
The playlist is another added feature of TikTok that was released last year to boost engagement on the app. TikTok playlists allow users to watch videos in a series format and enable content creators to organize their library of videos to accommodate the theme they choose.
TikTok's relatively newer feature of creating playlists allows for a better, more seamless viewing, improving the user experience for many people. Its new playlist feature helps organize your content and make it more palatable and accessible to a broader audience.
How to Make Playlists on TikTok from Your Phone's Saved Videos?
The playlist feature on TikTok, although quite helpful, is still relatively new, which means navigating through it can get a bit tricky. However, users can directly make a playlist from the saved videos on their phones. To do this, follow the steps given below.
Step 1: Log in to your "TikTok account" > Select and open one of your "videos" saved on the phone's local or cloud storage.
Step 2: Tap on the "menu" icon > Choose the "Add to playlist" option.
Step 3: Select "Create a playlist" > Name the playlist.
Step 4: Now click "Save," and your playlist is created.
How to Make a Playlist from Your TikTok Profile?
Apart from using your saved videos, you also have the choice to make a playlist from your profile. If you wonder how to do so, follow the instructions stated below.
Step 1: Log in to your "TikTok account" > Click the "profile" icon at the bottom right of the page.
Step 2: Select the "Videos" tab on the far-left side of the screen > Choose the "Sort Videos into Playlists" option.
Step 3: After naming the playlist, save it by tapping on the "Create Playlist" option.
Step 4: To add more than one playlist, press the "+" sign next to your playlist.
Remember that this is an exclusive feature that not everyone might have access to. Only some selected content creators can use this feature. However, more creators are anticipated to get access to the playlist feature soon.
How to Add Your First Video to a Playlist?
Like every other feature released on TikTok, the playlist feature is yet another one that enhances the experience of people who use the app. Also, it is a crucial tool for growing and engaging with other users in the community.
So, those who want to post a newly recorded video and add it to the playlist can follow the below-given steps.
Step 1: Create a "video" > Tap "Add to playlist" shown on the post screen. This option only shows up if a playlist is already created.
Step 2: Select a Playlist > Tap on the "Post" option.
How to Add Videos to a Playlist from Your TikTok Account?
An organized playlist is a must in this age of content creators trying to increase their visibility in a seemingly oversaturated market full of competitors. It's vital to add videos to your playlist to increase engagement with audiences. Since it's a newer feature, adding videos to the playlist might confuse some.
So, you can upload videos to your existing playlist by following the process mentioned below.
Step 1: Log in to your "TikTok account" > Select the "video;" however, ensure that the video to be added to the playlist is public.
Step 2: Press and hold on the video > Select the "Add to playlist" option > Choose a playlist of your choice.
FAQs
1. Why can't I create a playlist on TikTok?
You can only create the playlist with the use of public videos. If the problem persists, make sure to update the app.
2. Does everyone have the TikTok playlist feature?
Not everybody has access to this feature, despite having a TikTok account. According to TikTok, the quality is available for accounts with over 10,000 followers.